Feeding the Immune System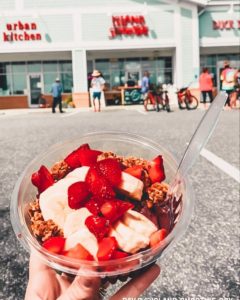 The purpose of food, of course, is to supply our bodies with energy. The energy comes in the form of proteins, fats and carbohydrates. These molecules are delivered to us by the food we choose to eat daily. But we also need antioxidants (vitamins) as well as minerals. Without them, the body cannot run a healthy immune system.
If the food a person chooses to eat is low in vitamins and minerals, their health will begin to fail. Vitamin deficiencies allow disease to flourish in the human body. Luckily, vitamins and nutrients don't have to taste bad. Delicious smoothies can be the delivery system for your daily dose of the good stuff.
A good smoothie will be taste and feel like a naughty treat it is so good. But, it is actually helping you from getting sick. At no other time in recent history has having a healthy immune system been so imperative.
The food we offer at Island Smoothie Cafe is healthy. The Acai bowls are packed with antioxidants. And our avocado toast has the good fat that your body needs. Mix in some granola and you are set!
Want to beef up on some supplements? Good. We have a list of great supplements that you can add to your smoothie. These supplements can give your immune system the boost it needs.
One thing we are not hearing enough about in the treatment of Covid is the immune system. Keeping your immune system at peak levels should be a priority during these times.
Come by Island Smoothie cafe in Carolla right in the Outer Banks of North Carolina to get your delicious and healthy treats today.