Have You Tried Avocado Toast?
A very popular item on our menu is avocado toast. As you may have guessed or already know, this is fresh avocado on toast. But, there are several ways you can order it.
The OG – This is fresh avocado and seasoned tomatoes on toast and it one of our more popular items.
Bacon and Egg Toast – This item has an egg and fresh bacon along with chili flake and "everything" bagel seasoning.
Caprese Toast – Avocado, basil, mozzarella, pesto, tomatoes and  a balsamic glaze.
More About Avocado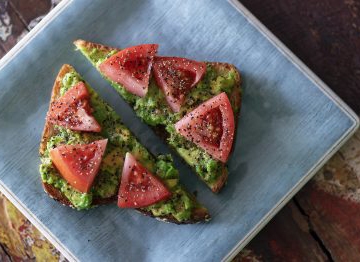 Avocado is loaded with fat! But don't let that discourage you from eating it. It's good fat.  One avocado has 300 calories and 29 g of fat. These fats are mono-saturated fats that help reduce cholesterol and control blood sugar. They also have vitamin C, vitamin B-6, potassium and magnesium.
Other Items
Tomatoes are loaded with vitamin C, potassium, folate, and vitamin K. They are good for your blood, heart health and immune system. And they are delicious!
Every diet needs fiber. A nice healthy slice of toast is god for the body and intestines, helping keep them moving along properly.