Potential Health Benefits of Fruit Smoothies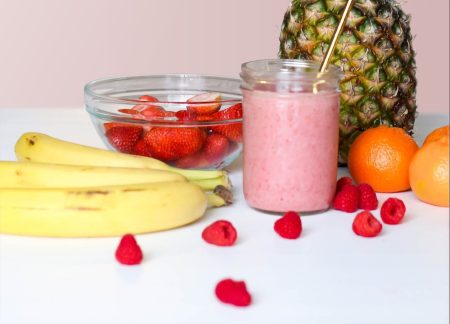 One of the best breakfasts in hot summers is refreshing fruit smoothies that taste delicious and offer many health benefits to the human body. Smoothies are beneficial in many ways, such as they help with weight loss. Keep reading this article to learn more benefits of drinking fruit smoothies.
Health Benefits of Fruit Smoothies
Smoothies have a thick and creamy texture and you can make them using various ingredients, such as fruits and veggies. Blend all ingredients until you get the desired thickness and pureed texture.
Don't worry about the ingredients because you can add any fruits of your choice, water, milk, seeds, nuts, or even protein powder to make them healthier and more beneficial.
Let's discuss some of the most common and potential health benefits of smoothies.
More Consumption of Fruits and Vegetables
Most people don't consume enough fruits and veggies, causing deficiency of nutrients. You can add a glass of smoothie to your daily routine that can lower blood pressure, reduce the risk of developing certain types of cancers and even balance out diabetes in some patients.
No Dehydration Now
Water is the best way to prevent dehydration in the human body. Still, a glass of fruit smoothie in your breakfast will also help you gain all the necessary nutrients to keep you hydrated, active, and productive throughout the day, especially during summer.
Best Replacement for Meal
If you are planning to lose weight, then don't forget to add smoothies of different fruits to your diet plan. It's a healthy alternative to meals and provides all essential nutrients to your body. If you are usually too busy or want to avoid fast food and can't cook a meal for yourself, prepare a container of smoothies or you can go to your favorite smoothie shop.
No More Food Cravings
Fruit smoothies are the best source of energy and nutrients, especially proteins. You might be aware that a higher intake of protein makes the body feel fuller, which will ultimately reduce the food cravings throughout the day. Proteins are complex molecules that take a longer time to break down; that's why they provide energy throughout the day.
Stronger Immunity
Your body can fight against viruses and bacteria that can cause disease only if you have a strong immune system. Fruit smoothies may help boost your immunity as it contains beta-carotene, which is the main source to make immunity stronger and better.
Improves the Skin
Vitamin C is highly beneficial in making the skin clearer. Fruits such as mango and pumpkin have carotenoids that can also improve the skin complexion. If your fruit smoothies have ingredients that are rich in Vitamin C and carotenoids, you may experience a glowing skin this summer.
No more Mood Swings or Depression
Organic fruits are best stress busters and make you feel happier and healthier. Moreover, fruits and veggies such as broccoli, bananas, and spinach are rich in folic acid, which relieves depression and anxiety. People dealing with mental health issues can also take fresh fruit smoothies to stay healthy and calm throughout the day.
Final Thoughts
Fruit smoothies are better than processed juices when it comes to health benefits. Most juices don't have pulp that usually contains all the essential nutrients. Moreover, peeled fruits have chances to prone to germs and oxidation; on the other hand, smoothies are full of goodness and nutrition.
We hope that this article has given you enough knowledge about the potential benefits of fruit smoothies and you will try to add them to your breakfast to make yourself healthier and proactive throughout the day. You can also visit a smoothie shop near you to enjoy your favorite smoothies.
https://www.sapnamed.com/blog/what-happens-to-your-body-when-you-drink-a-smoothie-every-day/
https://thatsmyjamok.com/23-important-benefits-of-drinking-healthy-smoothies/