Wild Items that Show Up on North Carolina's Outer Banks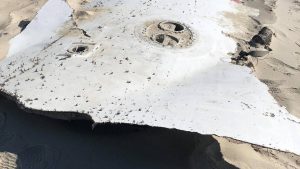 Because of our unique position out here off of the coast of North Carolina, and the fact that two separate continental currents meet in the waters surrounding, the Outer Banks is the landing place for many strange and varied objects.
Not only is  our location witness to all types of newly arrived items, it is also the home of shipwrecks and objects that landed here and were covered up by sand many years ago. Sometimes, after a major storm hits, shipwrecks are uncovered. Ships that are several hundred years old and relatively still intact have been found.
Old coins, some dating back to 200 B.C. Egypt, have been found on our beaches. Some say that Blackbeard's treasure is still out here waiting to be found.
Newer craft show up here too. We have seen the arrival of smuggling boats stocked with food and water that most likely floated their way from Florida. It is assumed that the unoccupied boats were simply left adrift once the passengers made it to the beaches of South Florida.
Another object which originated from Florida showed up here recently: a piece of a SpaceX rocket was found on the beach near Hatteras Village.  Its pretty cool that one day you can be talking about uncovering an old pirate ship and the next day the topic shifts to the piece of spacecraft that just washed up. That is the Outer Banks for you.
image by ANGIE CHRIS LANGDON