Smoothies as Meal Replacements – How to Stay Full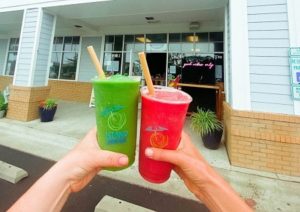 Smoothies have long been used as a meal replacement by many people. They have calories, vitamins and minerals and they put substance in your belly. But often times the body will digest this smoothie rather quickly and you are left hungry an hour or two later. So, what are the keys to making a long-lasting and filling smoothie?
A smoothie needs four main components to be filling. These are greens, fat, protein, and fiber. The greens can be found in vegetables like kale, spinach and other leafy greens. I know, nobody wants to drink a salad, but if you mix a perfect smoothie it won't taste like a salad.
Fiber is a big ingredient here. Adding flax seed or chia seed can really add depth to the smoothie. It will make your stomach work to digest and therefore it will quench that hunger sensation.
Healthy fats to add to your smoothie are any healthy nut like almonds, cashews or even sunflower seeds. And of course the go-to healthy fat source is avocado.
Don't be afraid to add your favorite supplement to the mix as well. You can add protein powder if you are working out or even creatine. The key is to add balanced ingredients without destroying the taste of the smoothie.
Here is a link to a great recipe for a low-card green smoothie which meets these requirements.
So, what are your smoothie goals? Do you mix and match smoothies based on how you are feeling for the day? Or do you stick with one type of smoothie to achieve an overall goal like weight-loss or muscle-gain? Whatever your goals, be assured there are recipes which will help you meet them.